EverTrue Product Updates: October 2023
10/31/23: Adding a New Career Moves Export File
We are excited to introduce our Career Moves (New Updates) export file, built to make easier work of navigating Career Moves data. This file includes only constituents who saw changes to their career data since the previous month's file delivery. You can access it in the Export Data tab of your account's Settings page, and will find October's data already available for download!
The file features a new Change Status field that specifies what type of data change occurred for each constituent. It includes the following statuses: 
New: Indicates this is the first time we have seen the constituent record in our Career Moves screening.
Update: Indicates the constituent has been part of previous Career Moves files, but something on the record has changed (e.g. recently changed job, new confidence match, etc.).
Delete: Indicates the constituent has been part of previous Career Moves files, but is no longer included in our most recent update. We recommend reviewing and, if appropriate, deleting prior updates for constituents flagged with this status from your CRM to ensure data accuracy.
As you use our Career Moves (New Updates) file, be sure to share questions and feedback with your CSM so we can continue enhancing our Career Moves offering! 
---
10/19/23: Introducing EverTrue's AI-Generated Emails for Mobile
Our product team is continuing to build features that leverage AI, and couldn't be more excited to share the latest: AI-Generated Emails! This feature will streamline your communication process by quickly creating email drafts for your most common stewardship touchpoints.
To find these drafts, tap the email icon in a constituent profile and select a template. In short time, a draft will appear which you can then edit to add your own personal touch and flair.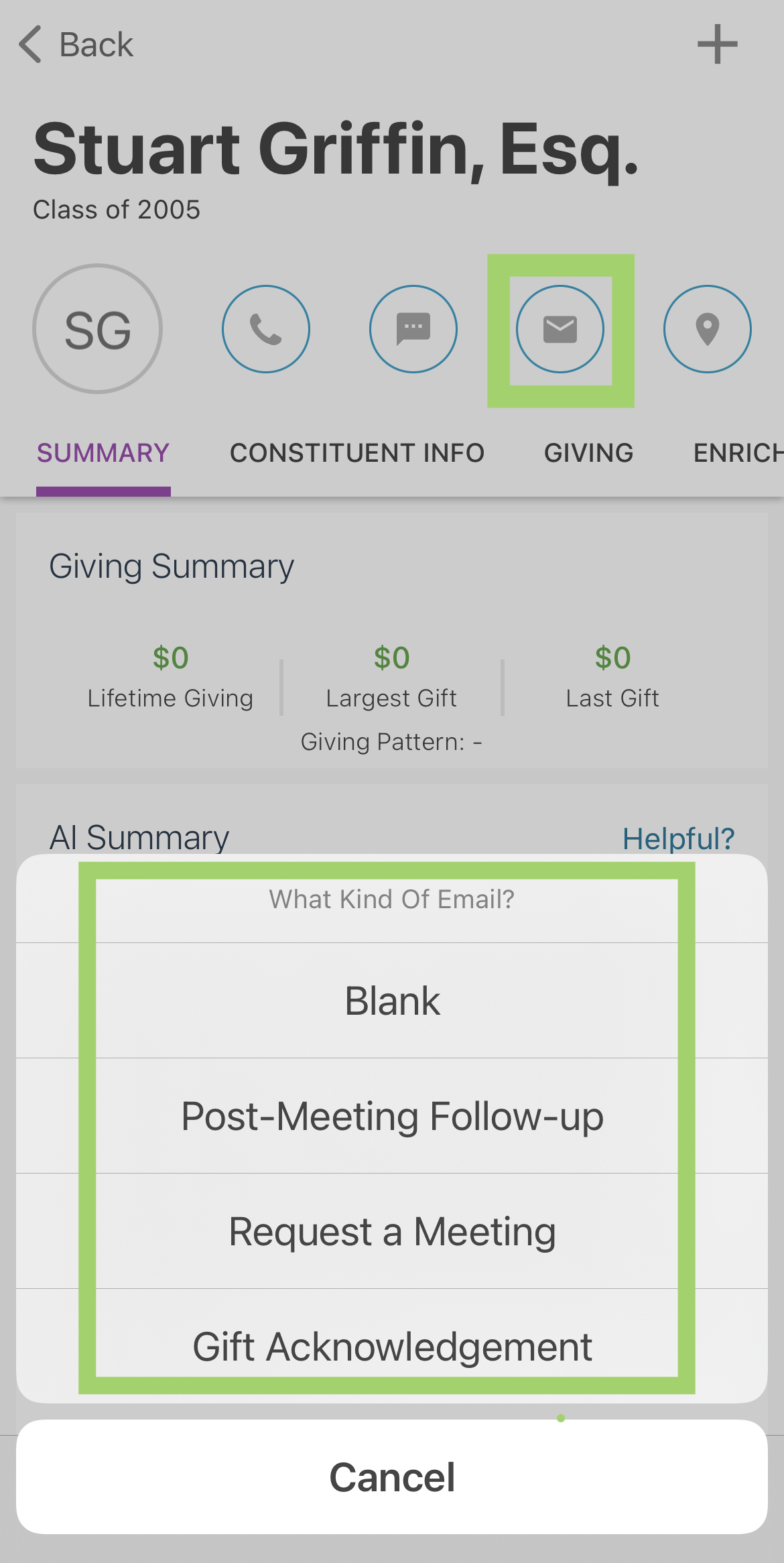 This feature is already accessible to users who have enabled EverTrue AI Profile Summaries. If you are interested in using these AI-supported features, please contact your CSM. For more detail on how to send AI-Generated Emails from your mobile device, check out our dedicated help articles!
---
10/3/23: Introducing EverTrue's AI Profile Summary for Desktop
Our AI Profile Summary feature is now available on desktop! If your team opts in to using this feature, you will find a What You Need to Know section appear within constituent profile Summary tabs. 
Summaries will include various elements of constituent data, such as noteworthy giving events and digital engagement callouts. Instead of spending time manually compiling this information before donor meetings, use the AI-generated summary to get a high-level overview of prospects in seconds!
If you're ready to start using EverTrue's AI Profile Summaries, touch base with your CSM. Once enabled, the feature will be accessible to all users across desktop, iOS, and Android apps. Questions about how AI is being used at EverTrue? We have an FAQ geared towards answering these! Lastly, take a look at our dedicated help article for more detailed information about this new feature! 
---
For any other questions reach out to EverTrue Support at genius@evertrue.com.
Was this article helpful?
Content aside
1 mth ago

Last active

66

Views

1

Following