Exporting Contact Updates
As a data administrator for your institution, you have access to monitor and approve or reject incoming contact updates from your users. All incoming contact updates first go to data.evertrue.com for review. We've outlined the review process here.
Once reviewed and approved/rejected, you'll want to get those updates back to your institution's database, which will then flow into EverTrue on the next constituent data import. To export the contact updates, open the Actions dropdown menu in the upper-right corner of the Contact Updates Manager, and select Export Approved Suggestions. (For now, this is a manual process, but check back in later - we hope to have scheduled exports down the line!)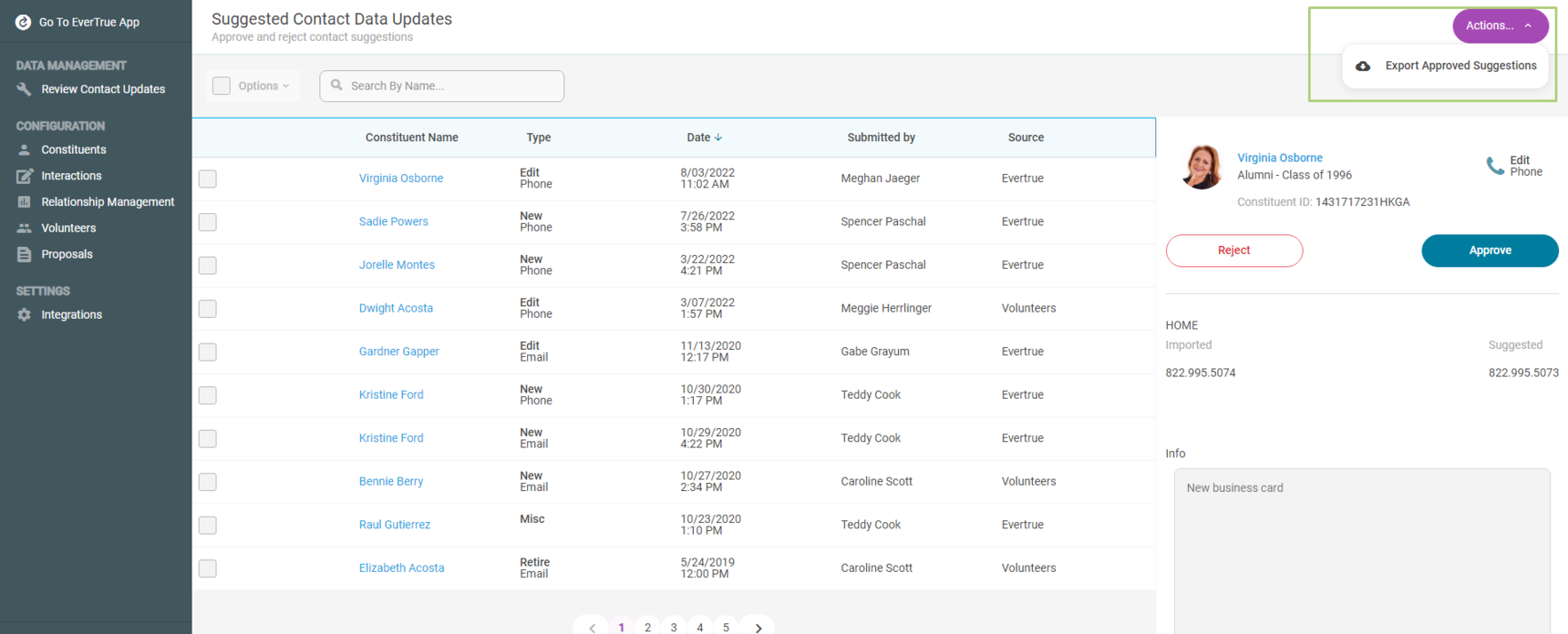 Here you can select the time period for the approved suggestions. This time period reflects the time of approval, not the time of submission by the user. Click Export and you'll receive a notice that the file is being generated. Once ready, you will receive an email containing the link to download the report. The download will only be available for 24 hours but don't worry, you can always regenerate it.
Contact Update Export Details
Export Name: evertrue_export_approved_suggestions.csv
Export Delivery Method: Emailed directly to the user's email who requested the report via data.evertrue.com. 
Export Format: CSV file, click here for a sample of the export file and format.
Timeframe: The timeframe of updates included in the report is set by the user requesting the file. 
Included Contents: Only approved updates will be exported into the CSV file. 
---
For any other questions reach out to the Genius Team at genius@evertrue.com.
Was this article helpful?
Content aside
1 yr ago

Last active

267

Views

1

Following