All About: Career Moves
What is Career Moves?
Career Moves refers to our high quality, fresh and accurate job changes and career insights that are delivered by EverTrue to accounts using the feature every month. Within an institution, constituent employment information is often updated inconsistently on a one-off basis. Career Moves will provide data on job changes, employer location, and company details missed by you and your team. This information is available to you via the Enrichment tab of an EverTrue constituent profile and can be filtered on for high-quality search segmenting.
If implementing Career Moves, you can anticipate the following benefits: 
Automatic career updates that are not in your home database.
Monthly Career Moves export files offering detailed employment insights. 
Reporting on job changes for your entire constituent base (not just alumni!), maximizing your lead prospecting efforts.
Below, we will review how to enable this feature, where to locate career change information within constituent profiles, and how to use filters to segment Career Moves data! 
---
Enabling Career Moves
To get started with enabling this feature, you will need to reach out to your Customer Success Manager. Our EverTrue Support Team (genius@evertrue.com) and our Data Resources can answer technical questions you might have about the EverTrue implementation process.
When enabling Career Moves, your constituent data will need to be uploaded in the EverTrue Data Manager (or EverTrue's Console if you have not yet moved to our new importer). This can be uploaded by your advancement services team. Once uploaded, it will be reflected in the platform.
We suggest establishing internal expectations when getting started Career Moves. Below are some business-related questions to consider as a team:
How will this work in relation to other tools? 
Where does it complement tools we might already use?
How is this different from other career search tools we use, specifically?
How do we want people on our team to use the data generated by Career Moves?
What is our timeline for implementing this feature?
Once I receive our first file of Career Moves, what do I do with them?
---
Using Career Moves
Locating Career Moves in a Constituent Profile
Once the Career Moves feature is enabled and career updates have been shared with your team, its data can be located directly within a constituent's profile. To find find this information, navigate to a profile's Enrichment tab and scroll to the Professional section. 
Here, you will find employment information paired back to a confidence match of High, Medium, or Low. The confidence match tag is determined by the number of unique identifiers found between the constituent and our Career Moves data. The more unique identifiers associated with a constituent, the higher the confidence match tag. When matching data is available for a constituent, company details such as category, revenue range, and size range will also be included in this section. 
If a recent career change is captured for a constituent (e.g. Retirement, Promotion, etc.), you will find this in their Enrichment tab's Summary section, under Noteworthy Events.
Filtering on Career Moves Data
Career Moves data can be segmented with three filters specific to this feature:
Career Moves Type
Career Moves Last File Date
Career Moves Start Date
To access these filters, navigate to your Constituents tab and open your Filters dropdown. You can use the search bar to narrow down filtering options to one of the above, or scroll until you reach the Career Moves filter category.
Use the Career Moves Type filter to help find constituents with career updates. This filter will help you segment for prospects you can congratulate on a promotion or retirement! Please note the Additional Job filter option will only be applicable to teams who implemented Career Moves before May 2023. Using it will segment on historical data (i.e. career data shared in April 2023 or earlier).
Use the Career Moves Last File Date filter to segment constituents who were included in a Career Moves file delivered within a specified date range. Applying this filter is especially useful for comparing segmented results with constituent records found in your CRM, giving you insight into any needed updates. Once applied, use the Actions button to export the filtered results so you can start cross-referencing data. Be sure to select the Career Move field group and Start Export to begin the process!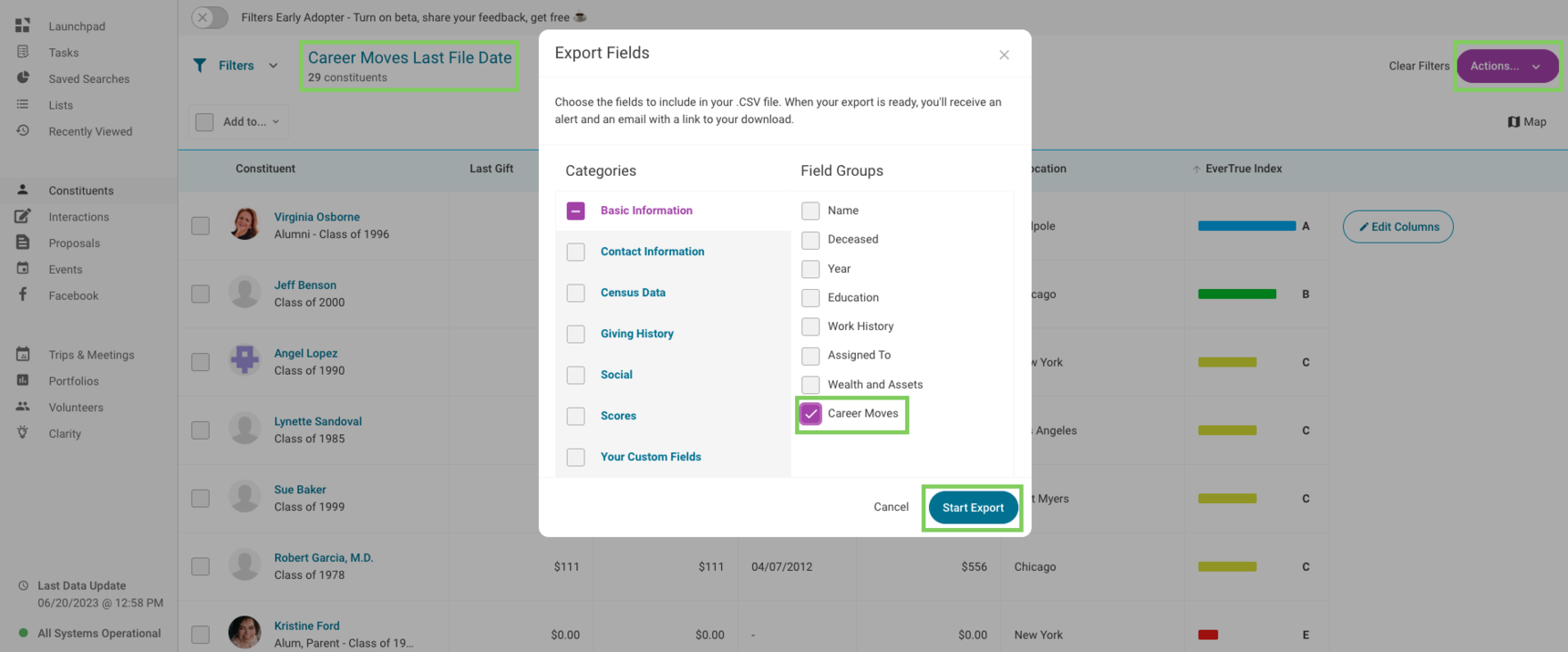 Use the Career Moves Start Date filter to search for constituents who have experienced a career change falling within a specified date range. When applied with Career Moves Type, this filter helps you narrow down a list of individuals with a particular career update occurring within a set period of time (i.e. Constituents who have been promoted in the last three months).
Exporting Career Moves Data as an EverTrue User
EverTrue Users can export Career Moves data from the following locations in EverTrue:
Your Constituents tab. 
An individual list selected from your Lists tab.
An individual saved search selected from your Saved Searches tab.
To export Career Moves data from one of these locations, click the Actions button found in the page's top-right corner and select the option to export. An Export Fields pop-up will appear in which you can click Basic Information from the Categories column and Career Moves from the Field Groups column. If you'd like other categories and field groups to be part of your export, select those before clicking Start Export.
Once your export is complete and ready to be viewed, a notification will be sent to your email and in-app bell icon. Tapping into these notifications will allow you to download your export file. 
---
Accessing Career Moves Resources
As you continue getting started with Career Moves, we recommend checking out some of our additional resources covering this topic.
---
For any other questions reach out to the Genius Team at genius@evertrue.com.
Was this article helpful?
Content aside
1 yr ago

Last active

455

Views

1

Following