Writing Proposals
If your organization has purchased the Frontline module, you have the ability to write proposals directly in EverTrue! The format for writing proposals in EverTrue is set by your institution's EverTrue administrators alongside our Customer Operations team. During this proposal form configuration process,  proposal fields are customized to your institution. 
Adding a Proposal from a Profile 
When adding a proposal from a constituent profile, start by opening the necessary profile and clicking the Actions dropdown. From here, select Add Proposal. This action will open your proposal form, allowing you to add all relevant details.
Adding a Proposal from the Portfolio Tab
If your organization is using our Frontline Portfolios tool, you'll also be able to add proposals from your portfolio. To do this, navigate to your Portfolios tab and locate the constituent for whom you'd like to add a proposal. Click the three-dot menu icon in the top-right corner of the constituent's card and select Add Proposal to open the proposal-writing form.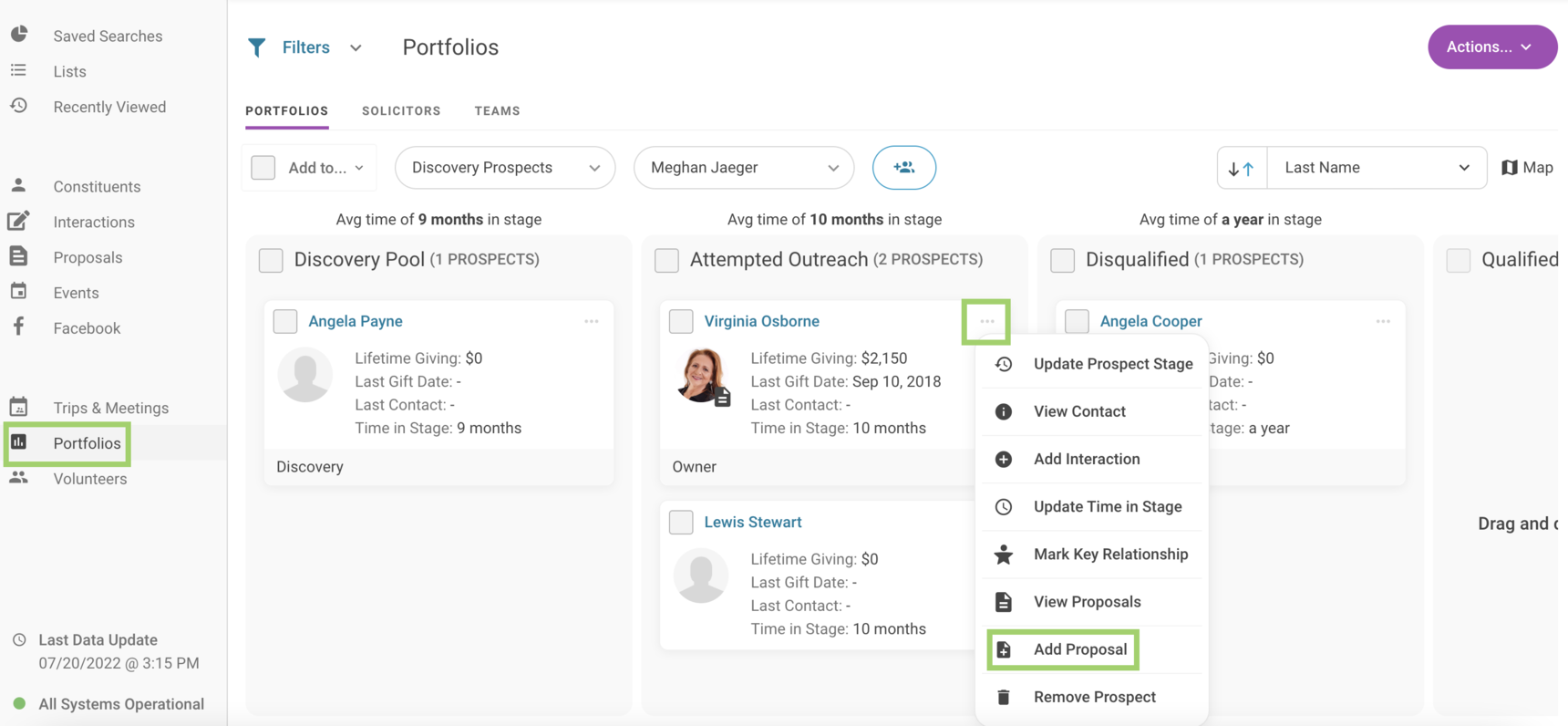 Editing a Proposal
If you're in need of editing a proposal, navigate to the proposal you would like to adjust by finding it in either your navigation bar's Proposals tab or a constituent profile's Proposals tab. Once the proposal is open, click Edit in the upper-right corner to open the editing form and easily adjust any information that needs changing.
Please note all solicitors on the proposal have edit rights. Both imported and newly created proposals can be edited in EverTrue. If your organization does not currently have the ability to write proposals in EverTrue and you'd like more information, please contact your Customer Success Manager.
For any other questions reach out to the Genius Team at genius@evertrue.com.
Was this article helpful?
Content aside
1 yr ago

Last active

263

Views

1

Following